When it comes to our everyday essentials, we all know how important a reliable flashlight can be. We frequently encounter issues such as limited battery life, lack of durability, and inadequate brightness. These pain points have inspired us to introduce the Baton 4 – a beacon of innovation, offering a seamless blend of power, durability, and user-friendly features. Its evolution from the beloved Baton 3 has introduced a series of enhancements that redefine what a compact flashlight can offer.
Let's discuss the benefits of the 8 major upgrades of the Baton 4
Upgrade #1 - Lumen Increase:
With the Baton 4, you'll experience a significant increase in brightness with its maximum output of 1,300 lumens. This means improved visibility and clarity for you, even up to a distance of 170 meters. From everyday tasks to unexpected situations, the Baton 4's enhanced illumination ensures clarity and precision in diverse scenarios.
Upgrade #2 - Friendly UI Design:
We've introduced a robust metal switch on the Baton 4, ensuring enhanced longevity and a better feel with every press. We Introduce a groundbreaking feature—the Baton 4's interactive indicators, showcasing lumen and battery levels. Achieving this on such a compact device required innovative laser micro perforation technology. This elegant and functional addition provides intuitive monitoring, giving you a clear understanding of the flashlight's status at a glance. This is thanks to brand-new laser micro perforation technology which has enabled these interactive indicators to be added to such a compact light.
Now, let's turn our attention to the Premium Edition, which includes the Baton 4 and a customized charging case.
Upgrade #3 - Charging Case Battery Capacity Increase:
Teaming up with the Premium Edition charging case heralds a new era of convenience. Housing a robust 5,000mAh battery, this case offers a 42% increase in capacity compared to its predecessor. This means that your Baton 4 can last up to 190 days on moonlight, addressing your need for extended battery life. Such extended endurance ensures a sense of assurance and readiness, even in prolonged power outages.
Upgrade #4 - Charging Case as a Power Bank:
However, this charging case goes beyond just powering flashlights; it doubles as a reliable power bank for external devices. Its Type-C port enables users to charge phones, earbuds, and various other devices, becoming an indispensable on-the-go companion.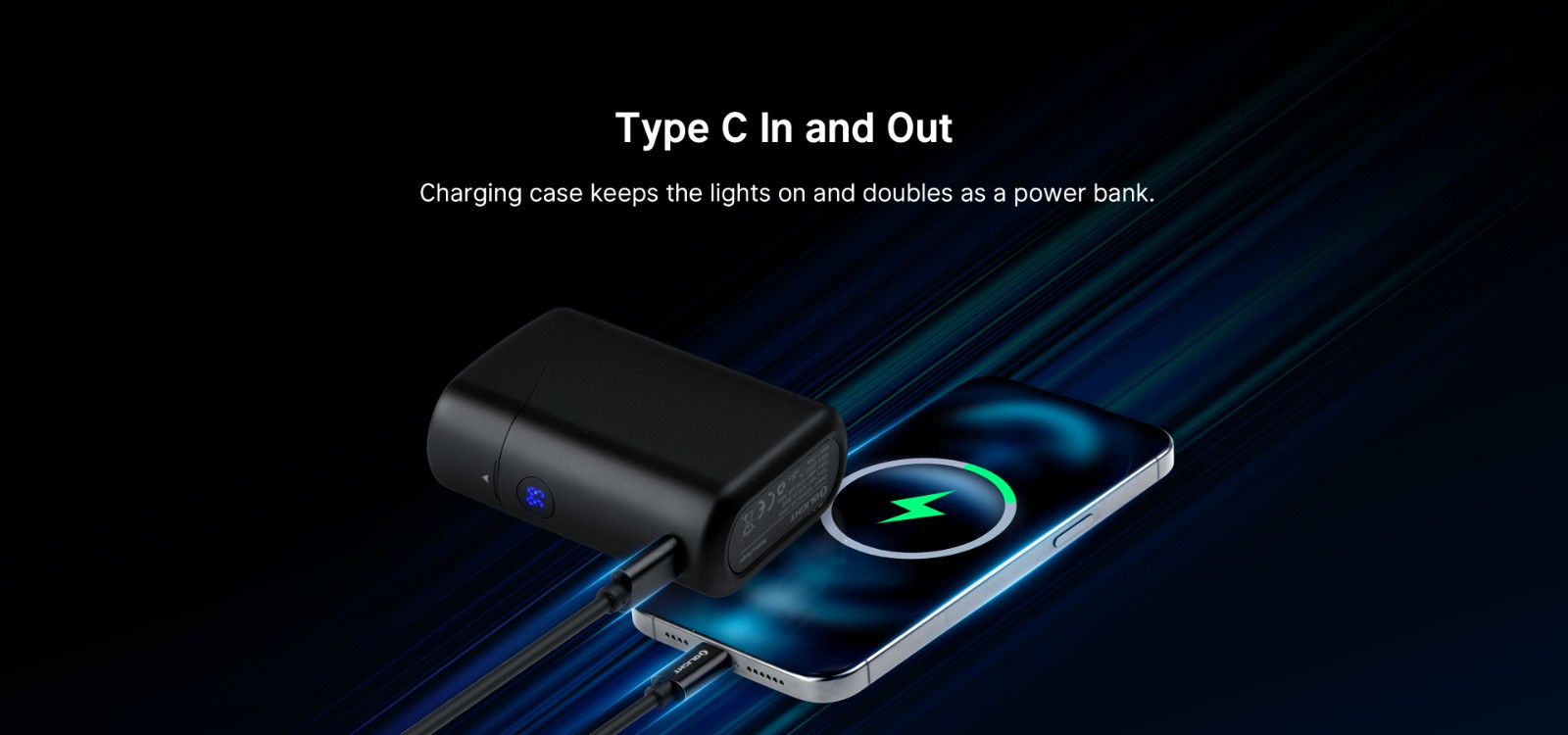 Upgrade #5 - Charging Case For Five Lights:
The new case not only charges the Baton 4 but also supports other flashlight models, like Baton 3, S1R Ⅱ, Perun Mini, and Perun 2 Mini, offering you a versatile and convenient charging solution for multiple devices.
Upgrade #6 - Charging Case LED Display:
The LED display button on the case shows the remaining battery power percentage, empowering you to plan your adventures with confidence and ensuring you always have power when you need it.
Upgrade #7 - Charging Case Control Flashlight On/Off:
You can effortlessly control the Baton 4 and Baton 3 flashlights with the charging case, enabling custom step-less dimming and seamless operation without having to remove the flashlight from its case. This feature addresses your need for easy and hands-free operation, especially in dirty or maintenance work scenarios.
Upgrade #8 - Charging Case Lanyard:
Crafted with portability in mind, the Baton 4 Premium Edition charging case features a lanyard hole, allowing users to effortlessly carry it along on outdoor adventures or daily escapades, keeping their lighting solution within easy reach.
Comparison of Function Tables Between Baton 4 and Baton 3
Baton 3 Premium Edition VS. Baton 4 Premium Edition
Typical Use Scenarios: Illuminating Daily Life
Here are a few scenarios in which I find the Baton 4 to be incredibly useful:
✅Outdoor Adventures:
When I'm out hiking, camping, or exploring the great outdoors, the Baton 4 is an indispensable companion. Its durable construction means I don't have to worry about it getting damaged during rough and tumble outdoor activities. The Baton 4 offers a range of lighting modes to suit different situations. From high-intensity beams for long-range visibility to low-power modes for extended runtime, I can easily adjust the brightness settings to meet my specific needs, even in the darkest of environments, allowing me to navigate trails and campsites with ease. Additionally, the Baton 4 may include a strobe mode for emergency signaling or self-defense purposes.
✅Emergency Preparedness:
In times of emergency or power outages, the Baton 4 provides reliable illumination. Its extended battery life means I can rely on it for hours on end, and its robust design gives me confidence that it won't let me down when I need it most. Whether it's navigating through a blackout or signaling for help, the Baton 4 is an essential tool in my emergency kit.
✅Everyday Carry:
As part of my everyday carry kit, the Baton 4 is compact and lightweight, making it convenient to carry wherever I go. Whether I need to light up a dark parking lot, find something in a dimly lit space, or simply have a reliable light source on hand, the Baton 4 is always there to provide dependable brightness whenever I need it.
In these various scenarios, the Baton 4 consistently proves itself to be a reliable, durable, and high-performing flashlight that enhances my experiences and provides peace of mind in any situation.
✅The Gift of Illumination
Available in an array of colors, including a limited-edition "Candy Cane", the Baton 4 and its Premium Edition stand as an extraordinary holiday gift. Its impressive features and outstanding performance promise to bring a sparkle to any occasion.
The Baton 4 and its Premium Edition isn't just a flashlight; it's a culmination of innovations and functionalities that redefine what a compact lighting solution can offer. Whether it's a thoughtful gift or a personal addition to one's daily arsenal, the Baton 4 promises to shine bright and make a lasting impact.
Interact with Olight!
Take part in the quiz for a chance to win a fantastic prize: the Baton 4 Premium Edition OD Green or Baton 4 OG Green(Two Winner).
Click on the link below to start answering the questions! Don't forget to leave your email on the link for a chance to win.
https://docs.google.com/forms/d/e/1FAIpQLScYTRNN0_kHwDpsfWFdHnB0tYL2akzm7hgvyDihC3-fJSHGLQ/viewform
Event deadline: 02:00 29/11
Congratulations to the following winners who will get one free Baton 4 Premium Edition OD Green or Baton 4 OG Green.
dan-c**@hotmail.co.uk --- Baton 4 OD Green
dra9**@me.com -- Baton 4 Premium Edition OD Green